BLACKHOLED!
YOU MAY BE THEIR NEXT TARGET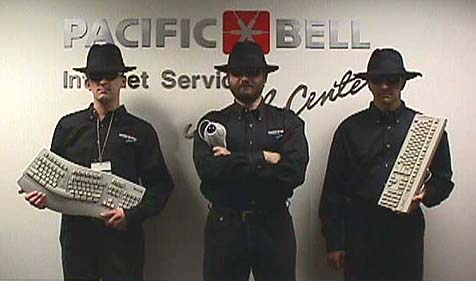 Jason Barr, Nick Nicholas, Dennis Dayman
"We are actually hurting them. I'm getting noticed" (Paul Vixie, 1997)
Meet the 'Men In Black' (M.I.B.). Don Vixie's enforcers and their weapons. The cyberprotection racket your mother warned you about. And on the far right is the Great One himself, flanked by his loyal evangelist Nick Nicholas.
Below is a listing of press coverage and relevant material dealing with the Vixie gang victims:

All material published on this site is for information purposes only, and should not be considered legal advice.
This page is fully compatible with text-only browsers such as lynx.
Copyright © 1995-2001 NetSide Corporation - All rights reserved

STOP THE MAPS CONSPIRACY!